There are some mountains or area, especially in Japanese Alps, where you have to stay overnight to get the summit unless you are not a trail runner. In such a case, you can choose either staying at the mountain hut or camping.
Mountain hut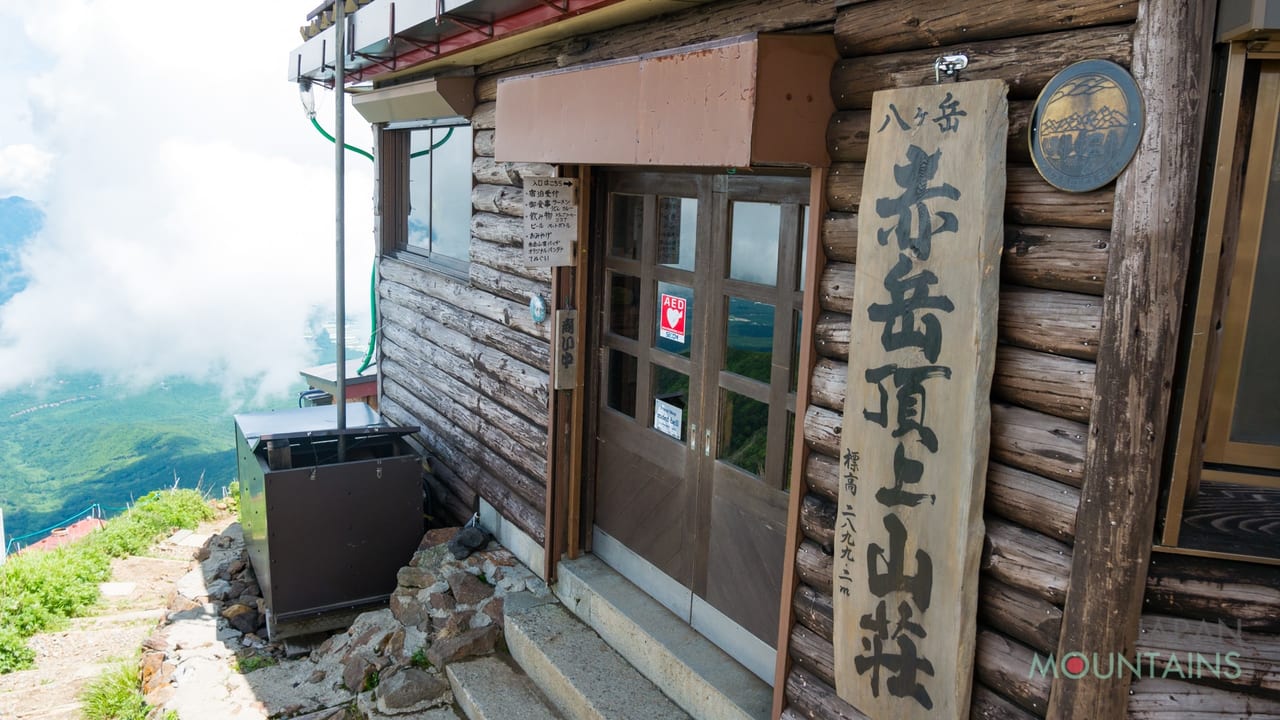 Generally speaking, there are two kinds of mountain huts in Japan, a full service huts with Japanese style bedding and wilderness huts that has no food service nor bedding.
The former is called "山小屋(やまごや・yama goya)"1 in Japanese, and most of them has name the mountain name or area name plus "小屋(こや・koya/goya)", "山荘(さんそう・sanso)", "小舎(こや・koya/goya)", "ヒュッテ(ひゅって・hutte)" or "宿舎(しゅくしゃ・shukusha)". For example, one of the biggest hut "白馬山荘(はくばさんそう・Hakuba sanso)" located near the summit of Shirouma-dake, consists of the name of mountain and/or area "白馬(岳)" and "山荘(さんそう・sanso)".
The latter is called "避難小屋(ひなんごや・hinan goya)" in Japanese. Unfortunately, it is quite difficult to judge whether the hut is "山小屋(やまごや・yama goya)" or "避難小屋(ひなんごや・hinan goya)" from its name.
Can I stay a mountain hut throughout the year?
Partly yes, but most of the huts would be closed in off-season. Almost all huts would be open during summer season (from July to September).
You had better check whether the hut where you will stay is open or not before hiking.
In addition, please be careful in winter season. If you found the hut was open throughout the year but there is a possibility that you can not stay there, especially wilderness huts due to heavy snow or ice. Therefore, you should take a (portable) tent even if you intend to stay at the hut. These situation is not rare.
Characteristics of Yama goya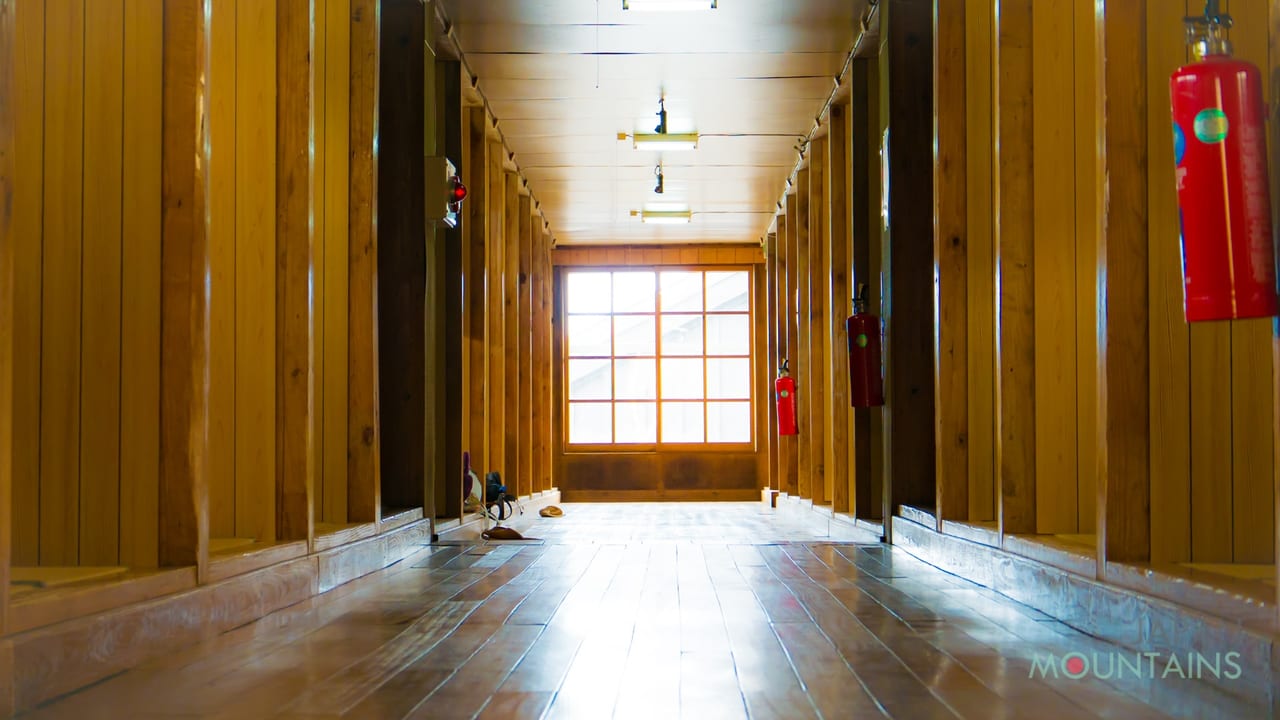 It costs around 6,000 yen per night for staying Yama goya.
Most of Yama goya, you will be able to receive services as follows.
Service
Approx cost
dinner
800-2,000 yen
breakfast
500-1,000 yen
lunch – Bento (to go) style
500-1,000 yen
drying room
include in accommodation fee
bedding
include in accommodation fee
water
100 yen per 1L or free
hot water
100-200 yen per 1L or
free(a limited amount)
toilet
include in accommodation fee
hot spring
500 yen or include in accommodation fee
Yama goya is the most popular way to stay in the mountain, so you would be share one bed with others in high season. The worst case I've heard is share one single bed with three men.
You may buy;
| Goods | Approx cost |
| --- | --- |
| t-shirt, traditional Japanese towel (Tenugui), badge and so on as souvenirs | 800-3,000 yen |
| beer | 300-700 yen |
| coke, juice, isotonic drinks | 300-500 yen |
| snack | 200-500 yen |
| cup noodle | 300-600 yen include hot water |
| lunch such as curry and rice, ra-men | 600-1,500 yen |
There is a tendency to get more expensive when the hut locate higher and/or farther from its trailhead.
Almost all huts don't accept credit card. You should bring enough cash.
There is no shower although there are a few exceptions. You can't use any shampoo or soaps even if the hut has a hot spring in order to protect natural environment.
I saw a fare box in front of the toilet. Should I pay even I stay there?
You don't have to pay money as long as you stay there. Hikers who don't stay that hut have to pay 100 yen per use in general.
Reservation required?
It depends on the hut. However, almost all huts will accept you without reservation.
Generally speaking, you should make a reservation if you go with a group (more than 4 people) or you wish to stay in a private room.
The reservation shall be by phone call. Few accept reservation by e-mail or online. I recommend you to ask native Japanese speaker to make a phone call unless you speak fluent Japanese. Since, it is not rare that the person you would talk speaks with a regional accent and might be surly.
Characteristics of Hinan goya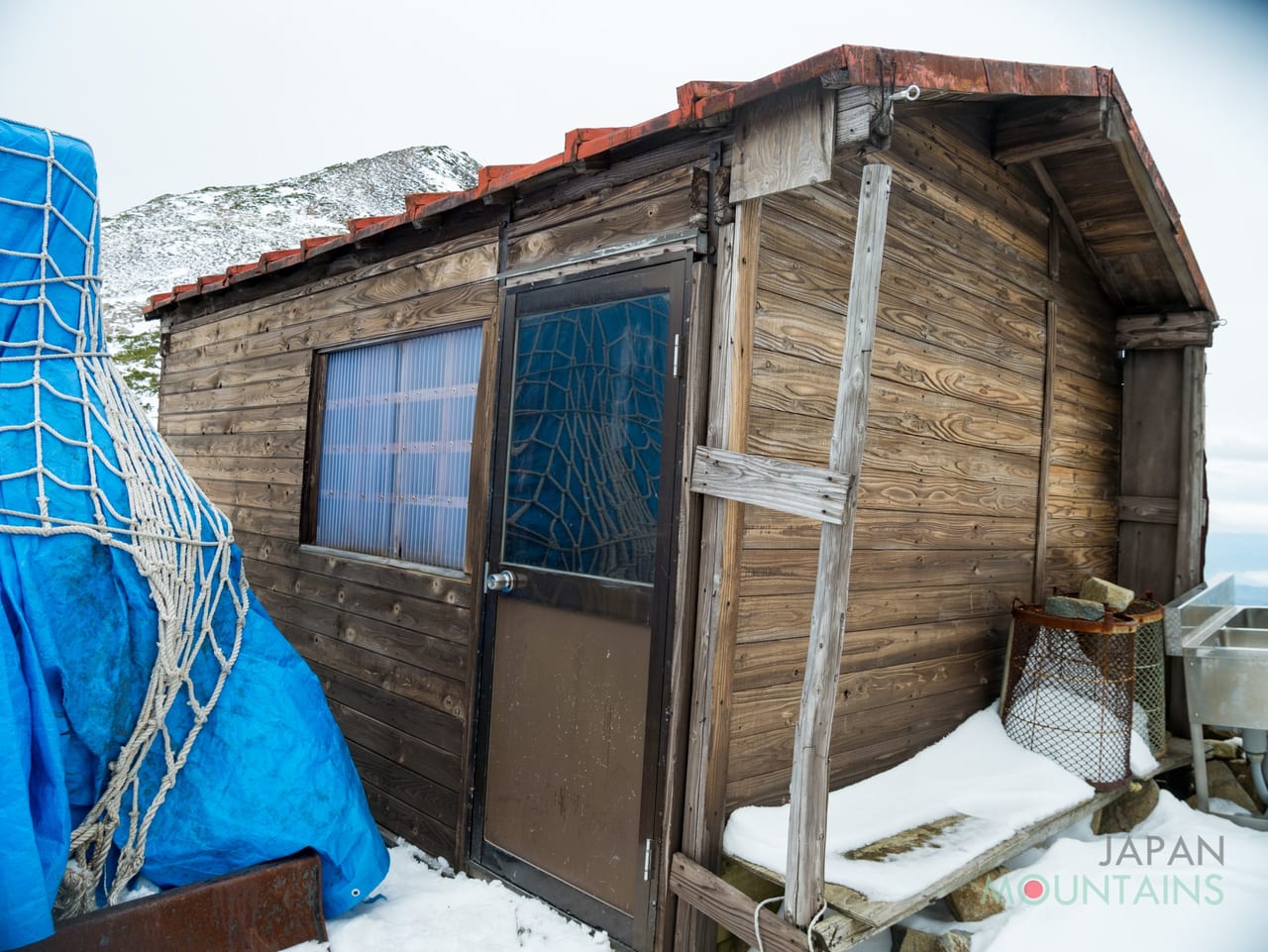 It costs around 1,000 yen per night or free for staying a Hinan goya.
There is no bedding except although there are a few exceptions. Therefore you should bring at least a sleeping bag and a sleeping pad to stay comfortable in the Hinan goya.
A capacity of the typical Hinan goya would be 5 to 15 people, and first come, first served. Therefore, hikers who wish to stay a Hinan goya tend to try to get to there as soon as possible.
Camp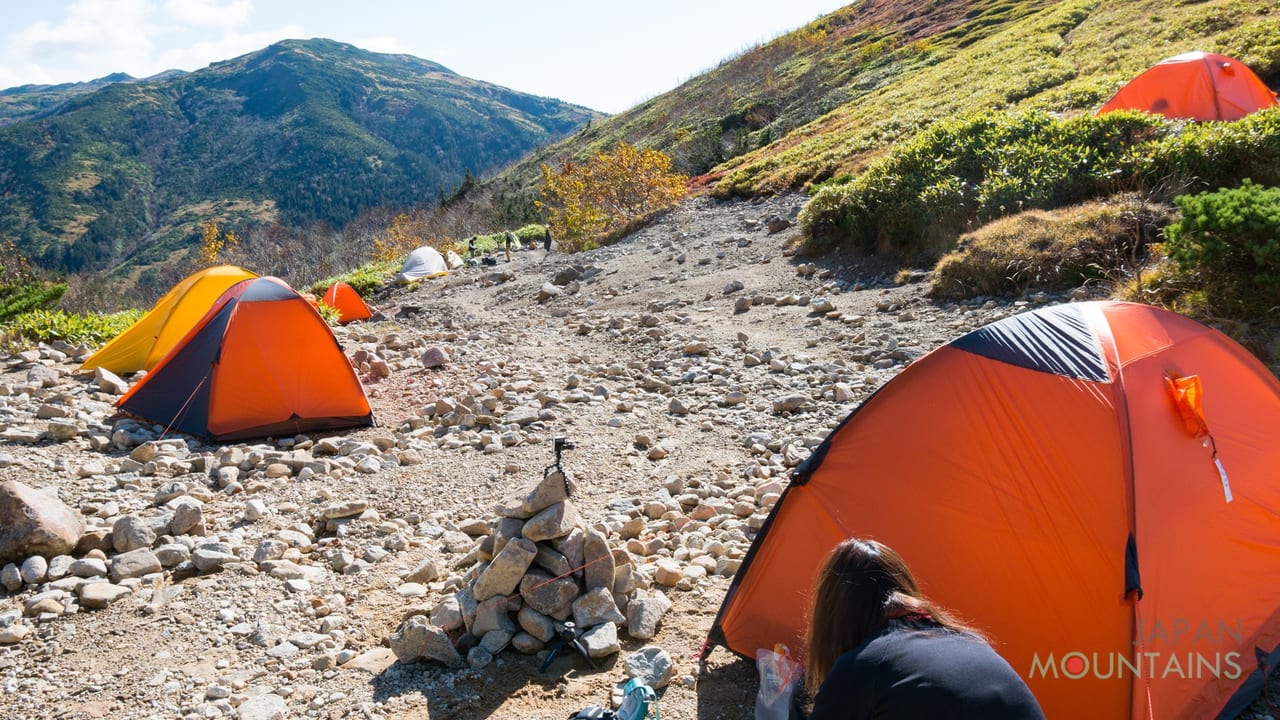 Most of the mountains allow hikers to camp only in the specific campsite.
We call the campsite "テント場(てんとば・Tento ba)" or "テン場(てんば・Ten ba)" in Japanese.
In case of emergency, you can camp anywhere. We call it bivouac (ビバーク).
Campsite
It costs around 500-1,000 per person per night, not per tent. As well as Hinan goya, the campsite is first come, first served. So, you wouldn't find flat space.
Before you set up your tent, you should go to the Yama goya where is located the nearest from the campsite for procedure. That is just to write your name, address, phone number, your trip detail and so on, then pay money for the camp.
You might receive a tag or a tape at the reception. In such a case, you tie it on your tent where the tag or the tape is visible from outside. That is a evidence you have finished official procedure, so you may tie it off when you put away your tent.
Reservation required?
Almost all campsites in the mountain doesn't accept reservation for camp. So, you don't have to make a reservation for it in general2.
Can I have meals at Yama goya where the camp site belongs?
Regarding dinner and breakfast, you might have. That is depending on the hut policy.
You can have lunch, buy goods and something to drink or eat even you didn't stay there.
Toilet
Most of huts allow to use the toilet outside the huts.
As well as staying the hut, you don't have to pay extra fare for it.
Water
Most of huts allow to use the toilet outside the huts or buy some at the reception.
Washroom
Most of huts DO NOT allow to use the washroom in the huts.
Bivouac
If you faced a crisis such as injuries, diseases, bad weather or lost your way, you can stay anywhere with your (portable) tent for your safety.
---
The definition of "山小屋" includes "避難小屋", to be exact. So, if you'd like to say about it except "避難小屋", you should say "有人小屋(ゆうじんごや・yujin goya)" or "営業小屋(えいぎょうごや・eigyo goya)". "有人" means exist person(=staff) and "営業" means business. ↩
I know one campsite that is required reservation. That is Ozenuma(尾瀬沼・おぜぬま) campsite in the Oze National Park in Gunma prefecture. ↩