The camp is only allowed in the camp site even in the mountain as a general rule.
Exception
You can set your tent wherever in case of emergencies such as injuries, extreme fatigue, darkness.
Some hikers stay outside of the camp site by a stretch of the rules, please don't follow them. It is absolutely bad manner!
How to find the camp site
You can find the camp site in the map. Most of the camp sites belong to the hut. Therefore if you wish to stay the camp site, you should head for the hut where the camp site belongs.
Fare
It depends on the camp site but most of them are among 500 to 1,000 yen per person. In usual, per person NOT per tent. So, if two people stayed there, stay in one tent and stay in each tent is same fare.
However, especially the Northern Japanese Alps in summer season, it tends to lack space for everyone due to insufficient space. Therefore it encourages sharing tent in the same group.
In closed terms, you don't have to pay fare in all likelihood.
Facilities
You don't have to pay for using toilet in the camp site because it is included in the camp fare. It is recommended to ask which toilet you can use while your staying.
Some camp sites allow to use common space inside the hut for dinner and breakfast. Ask them as well.
As for the drinking water, it totally depends on the hut (or the area). The Northern Japanese Alps tends to sell water at the lodge because there is less water, but the Southern Japanese Alps tends to provide it free.
Reservation
No reservation is required, or rather, you cannot reserve the camp sites except few camp sites. First come first serve as a general rule.
As well as the hut, most of the camp site won't decline anyone who wish to stay there aside reasonableness.
However the environment of setting camp is pretty bad such as on the slope, scree, wet ground if you come later while the busy season.
Application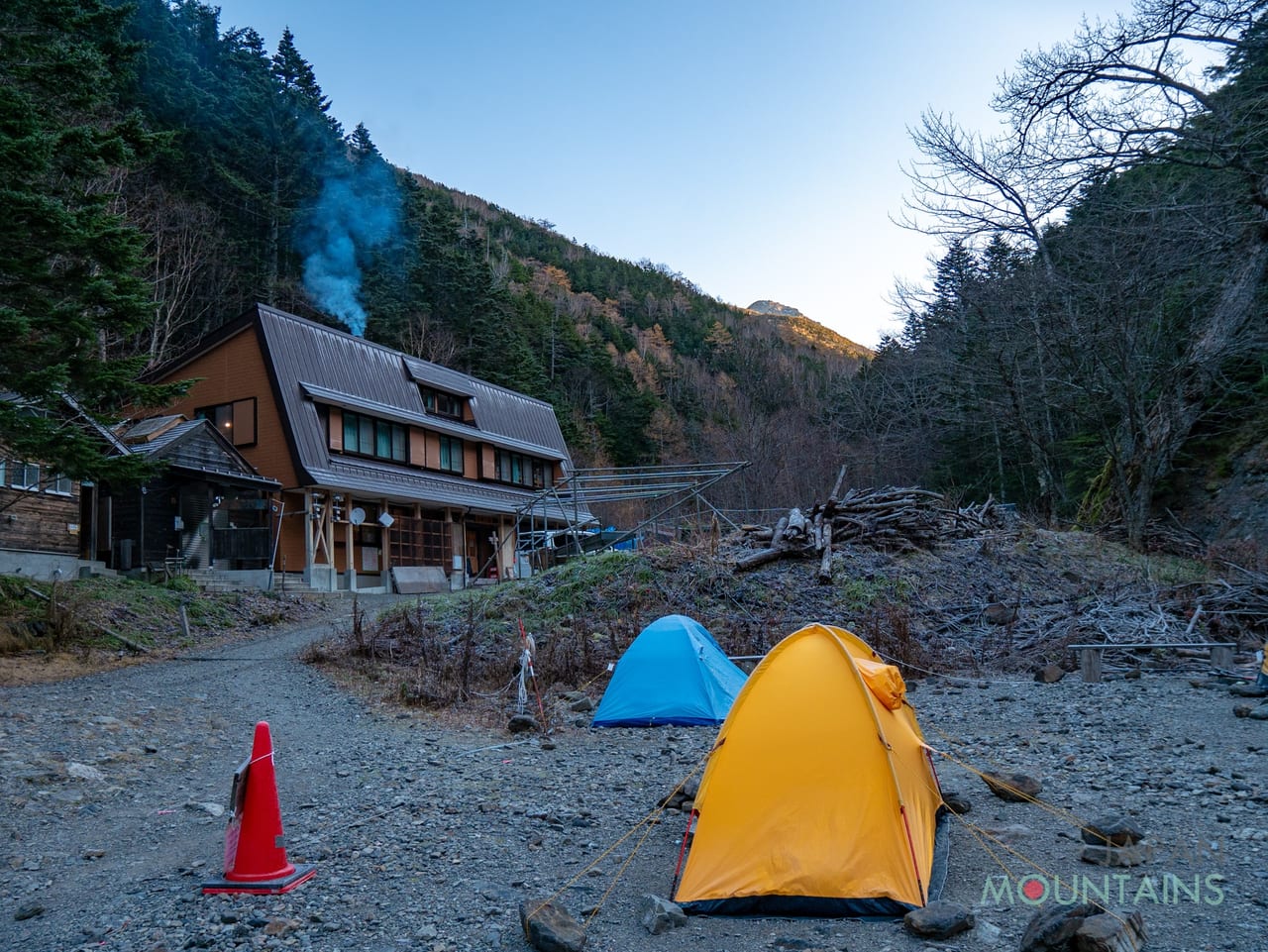 Go into the hut where the camp site belongs then tell the desk clerk you want to stay in the camp site.
Most of the camp sites require to fill in the form. After that you may get a nylon slack or paper tag. You should tie it visibly on the tent in such cases.
Till when is the tent left there?
Few camp sites have kind of "check-out" time but most of them don't have it so far as I know.
It seems most of them allow to leave the tent for the summit push. If it had past noon, you may ask the desk clerk you should pay or not.